13/10/2008
The first underwater tunnel of Coatzacoalcos is now a reality
Construction of the underwater tunnel is now 43 per cent complete.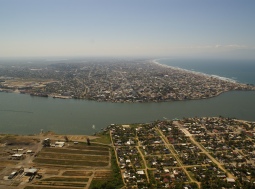 Governor Fidel Herrera Beltran said that although the immersed tunnel was a Herculean task, even acknowledging that they did not even appear in the Veracruz Development Plan with which his government took office, it is today a dream come true and he even compared the massive engineering project with the financial engineering and management that had to be performed to complete this great achievement, unique in its kind in Latin America and which must be a source of pride for all Mexicans and especially for the people of Veracruz.
The Immersed tunnel should be the first step in the logistics project of the Isthmus, not even I could imagine it because I thought that maybe we would not be given time in six years to accomplish as much as we wanted to in Veracruz, but as things have turned out in the first three we have surpassed all of the targets set. After the secretary of communications , Mark Theurel Cotero, had given an account of the progress of the work, the governor compared the great feat of tunnel engineering with the large-scale "financial engineering" that had to be done to make the underwater tunnel possible, a project will cost 2.2 billion pesos.
Accompanied by Spanish construction firms that are members of the Coatzacoalcos Tunnel Construction consortium and the company Global Vía which will be the concession holder of the tunnel for 30 years, the state executive said recent economic events, the financial crisis caused by the collapse of the stock market, will not impact negatively on the construction of the underwater tunnel, as the resources are secured and the work will be completed in its entirety.
Construction work on the tunnel is now 43% complete, with the completion date set for March 2010.