26/11/2012
The Durango-Mazatlan highway section opens
Widely regarded as the most complex roadbuilding project in the country, the Durango-Mazatlan section in the state of Sinaloa was opened today. The almost 15-kilometre stretch of highway built by Grupo Hermes and FCC accounts for an investment of some 3.5 billion pesos.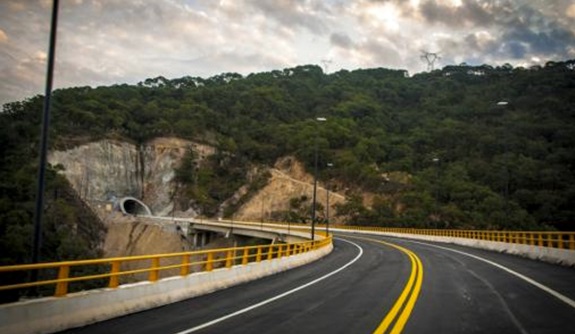 The section known as El Sinaloense-Panuco meets the requirements of a high-spec motorway, allowing for operational speeds of between 90 and 110 km/h as well as enhancing safety, since it enables the gradient to be reduced from 10 to 6 per cent and the road curvature from 30 to 4 degrees. Furthermore, the average road width has been increased from 7 to 16 metres, according to the roadbuilding contractors. The project is located in a region that is difficult to access in the heart of the Western Sierra Madre, and included the building of 16 tunnels and 15 bridges. When the remaining sections have been opened, the Durango-Mazatlan motorway will mean a reduction in the travel time from six to two and a half hours, thus greatly improving communications links along the Gulf-Pacific axis.
Secretary of Communications and Transport Dionisio Perez-Jacome highlighted in his inaugural address that the complexity of this section is such that in this project alone there are 115 structures of the more than 1,000 build during the current administration. "Among these structures are projects that are already emblematic, such as the Bicentenary Bulwark Bridge, just 28 kilometres from here, the highest suspension bridge in the world, with a height of over 400 metres and a central span of 520 metres, which is now fully complete. Then there is the San Marcos Bridge, on the Mexico City-Tuxpan highway, with the second highest pillar in the world which reached completion just a few days ago."
Pérez-Jácome reiterated, as he has done in recent road inaugurations, that over the last six years public and private investment totalling 320 billion pesos have been pumped into the construction and modernization of over 21 thousand kilometres of roads, bridges, ring roads, country and slip roads. "This is more than the total construction of the last two administrations put together, if we consider that from 1995 to 2006 a total of 19,298 kilometres was built."