28/02/2010
The Durango-Mazatlan highway to be ready for 2012
The investment in this project is estimated at 18 billion pesos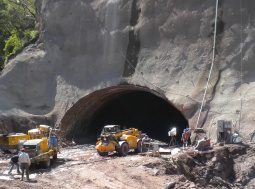 The estimated 18 billion peso investment will be used for the extension of 230 kilometres of the highway. The Communications and Transport Secretariat (SCT) forecasts that the new Durango-Mazatlan road will become commercially operational in 2012, which will mean that motorists will see a reduction in the travel time between the two cities from six to two and a half hours.
As part of this roadbuilding project the Baluarte (Bulwark) Bridge will be constructed, which will be the highest and longest in Latin America.
The Baluarte Bridge is to be located over the river of the same name, between the states of Durango and Mazatlan (Sinaloa) and will be 1,124 metre long to span a gorge with a depth of 390 metres.
This new element of infrastructure has created 3,500 jobs directly and 10,500 indirect jobs; on completion, it is expected to generate around 5 thousand new jobs, said the Assistant Works Manager of the SCT centre in Sinaloa, Angel Devora.
Among the details he gave were that the construction will include a total of 63 tunnels, 26 on the Durango side and 37 in the state of Sinaloa, in addition to 220 kilometres of two-lane highway, while the Baluarte Bridge will have four lanes of traffic.
According to the SCT, the vehicle capacity for this road section will be 3,000 vehicles per day, a figure that will increase to six thousand over the next 6 years.